Swicegood Group, Inc to auction Rominger Furniture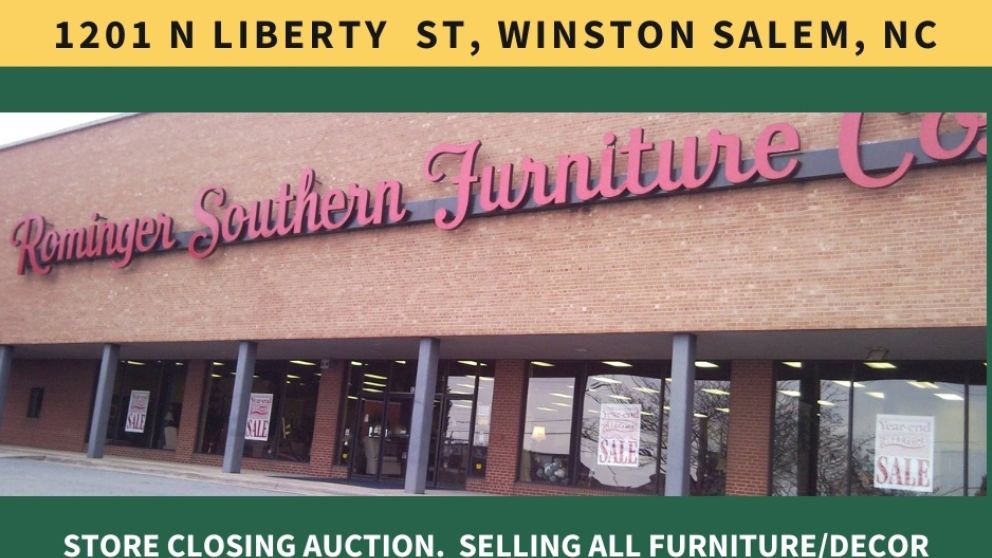 FOR IMMEDIATE RELEASE
May 15, 2023
Rominger Southern Furniture Company Presents Final Auction of Home Decor and Furnishings Inventory in Partnership with the Swicegood Group Inc., A North Carolina Based Auction Company.
Winston Salem, NC - Rominger Southern Furniture Company has been a trusted provider of quality home decor and furnishings in the Winston Salem community for over 120 years. The company was founded by three men as a partnership in 1900 known as Rominger & Crim. Later, it was known as Rominger & Blackburn, and in 1910, it was solely owned by Mr. Charles Rominger. After his passing in 1949, his only child Elizabeth was elected chairman of the board, and together with her husband, J. Wilson Cuningham, they operated the store as chief officers for over 40 years. With Sally German's passing and the COVID pandemic's toll on sales, Rominger will be closing its doors.

Rominger Southern Furniture Company is pleased to announce its final sale at auction in collaboration with the esteemed auctioneer, The Swicegood Group Inc. The Swicegood Group Inc., renowned for their expertise in conducting successful auctions, brings their extensive experience and professionalism to this landmark event. With a stellar reputation built on integrity, transparency, and customer satisfaction, The Swicegood Group Inc. has established itself as a trusted name in the auction industry.
The auction will be conducted via online bidding, providing a convenient and accessible platform for potential buyers to participate in the auction from the comfort of their homes. Bidders will have the opportunity to explore and bid on more than 1000 items including sofas, recliners, dining sets, bedroom sets, mattresses, and home decor accessories. The site can be found at Ready2bid.com .
"We are thrilled to collaborate with the Rominger Southern Furniture for this auction," said Elizabeth Swicegood, and auctioneer with The Swicegood Group, Inc. "The selection and quality of the furniture is amazing."
Online bidding is currently open and will close on May 23rd at 6 PM, featuring a staggered soft close. Interested bidders can visit the dedicated auction platform at ready2bid.com to view the catalog and participate in the bidding process.
To ensure a confident and informed bidding experience, Rominger and The Swicegood Group Inc. will host a final public preview on Saturday, May 20th, from 11 AM to 1 PM. During this preview session, visitors will have the opportunity to personally inspect the items on display and make well-informed bidding decisions. Rominger extends its sincere appreciation to the Winston Salem community for their continued support throughout the years and encourages all interested individuals to participate in this historic auction event. This is a unique opportunity to acquire remarkable home decor and furnishings at attractive prices.
Media Contact: Elizabeth Swicegood, 336-909-2584 Lizswicegood@gmail.com
---