Why We're the Best choice for Real Estate Auctions in Winston Salem, North Carolina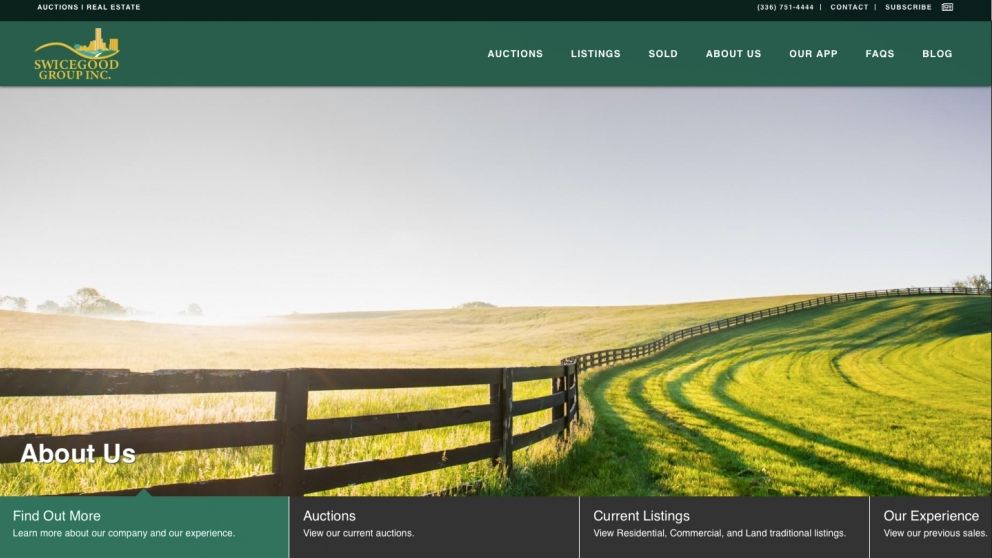 The Swicegood Group, North Carolina's Real Estate Auction Experts
Why We're the Best Real Estate Auction Company for Winston Salem, North Carolina
The Swicegood Group wants to be your number one choice for North Carolina Real Estate auctions. We're local and for more years we have been the real estate auctioneer of choice for the Tar Heel State. Whether you are considering a real estate auction in Winston Salem, Salisbury or Mocksville, North Carolina, rest assured our team of professionals will exceed your expectations.
"My partners and I thank you for the excellent job you did marketing our property in Salisbury, North Carolina. When traditional marketing methods did not seem to be working, you recommended auctioning the building, which turned out to be just the right strategy…." J.L., Raleigh, NC
How The Swicegood Group has Earned Its Reputation
The Swicegood Group has earned its reputation one sale at a time, with a singular focus on excellence. While we are local in our area of service, we maintain a national presence in our credentials. We are members of the National Auctioneers Association where our lead auctioneer proudly serves in leadership positions, the National Association of Realtors, and the North Carolina Association of Realtors, among many other organizations.
Our clients value us because we handle sales in a timely manner with professional, courteous, and highly ethical behavior. We are known for earning the most money for our clients in the shortest period of time with a combination of superior advertising, a thorough knowledge of the North Carolina market, and detailed accounting of every asset sold. The Swicegood Group has served clients in virtually every state in the nation.
"I would like to thank you for the great job you did on the auction of our property in Winston Salem, NC… You were very patient and professional; I would recommend you to anyone who needs an honest, hardworking auctioneer." L.H., Cape Cateret, NC
Customer Service is Never an Accident
The Swicegood Group understands that selling real estate at auction may create stressful and uncertain emotions. In striving to be the best real estate auction company in North Carolina we never forget that our clients are real people with real-life concerns.
"The Swicegood Group made a difficult transition much smoother than I thought possible. I was the sole inheritor of an estate in Salisbury, North Carolina; however, I had lived in Pennsylvania for the past 20 years…I valued not only your reassurance, but it became clear to me early on that they were well-practiced in their business and knew the market area very well." J.K., State College, PA
We place high value on transparency in everything we do and we understand the need for everyone who uses our real estate auction services to feel reassured that they are always our top priority.
Customer service is never an accident at The Swicegood Group.
The Swicegood Group, an auctions and real estate company, was founded more than 25 years ago. We specialize in North Carolina auctions including real estate and personal property, such as livestock, antiques, precious metals and collectibles. We are proud of our diverse auction skills and extensive knowledge of the North Carolina market. For more information on upcoming auctions, call us today at: (336) 751-4444.
---